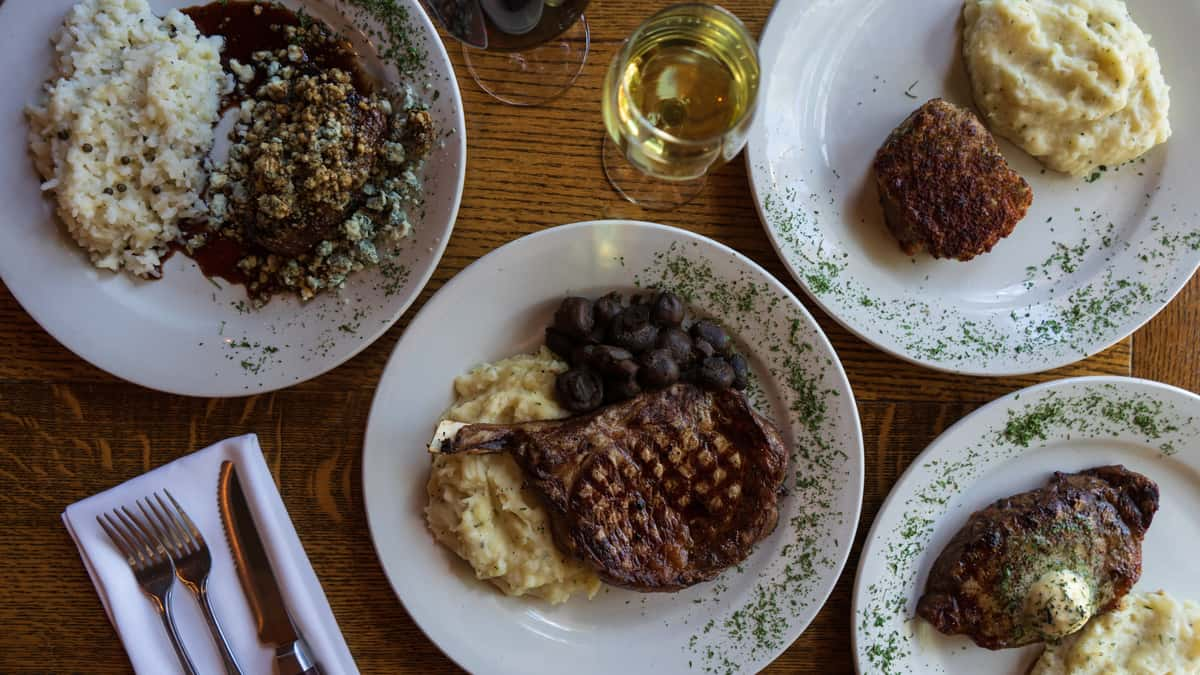 Loveland CHophouse
Welcome
We are a locally owned, fine dining steakhouse in the heart of downtown Loveland, Colorado.
WE ARE OPEN FOR DINE IN!
We are now open for dine in! We do ask that you make a reservation, as we are under a limited capacity with seating. Every reservation has an allotted amount of time to ensure we don't have reservations overlapping. Please take note of your reservation end time, we appreciate your cooperation with this. 

We are so excited to be able to provide our Chophouse experience once again!
Loveland, CO
125 E. 4th Street
Loveland, CO 80537

Hours
Monday - Thursday:
5:00 pm - 9:30 pm
Friday - Saturday:
5:00 pm - 10:00 pm
Sunday:
5:00 pm - 9:30 pm
Leave a Review
Leave a Review
"The Scallops with the creamy bacon sauce was rich and yummy on a cool night. It was an enjoyable evening and the service was great."
"The steak was cooked to perfection! The garlic mashed potatos are a great combination with the steak. Went here to celebrate baby coming soon and both mom and baby left satisfied and happy! Husband had a whisky cocktail and he loved it! Great atmosphere and super friendly staff. Definitely will be a regular date night spot for us!"
"We love Loveland Chophouse and go often!! If you are celebrating and want a special night out, it's the only place in Loveland that measures up. The service and atmosphere is impeccable!"
"I have never been a fan of mussels until I had them at the Chophouse in Loveland. Extremely good! You have converted me!! Everything I have had at the chophouse has been great!!"
"First I want to say that we my friend and I went there for an early Valentines dinner. Not only was it incredibly delicious the service was impeccable. We had Emily whom was not only personable but made our experience one of a kind! I enjoyed the delicious salmon along with my friend who had the 8 oz steak with scallops À la cart. The sauce with salmon was delightful and couldn't have paired any better. I tried scallops for the first time in 16 years and was pleasantly surprised by the perfectly cooked, light, but fully of flavor paired with a sauce that I couldn't get enough of. My friends steak was prepared exactly how he asked, moist, juicy, and cut like butter. We added on a bottle of the Duck Cab with our meal, that couldn't have elevated our meal any better. We will be back! As we love Emily and will be asking for her again but the food was exquisite and doesn't compare to anything here locally! Thank you for having us, we highly recommend The Chophouse and know you won't be only getting an experience you will be getting an opportunity of a lifetime."
"The Scallops with the creamy bacon sauce was rich and yummy on a cool night. It was an enjoyable evening and the service was great."
"The steak was cooked to perfection! The garlic mashed potatos are a great combination with the steak. Went here to celebrate baby coming soon and both mom and baby left satisfied and happy! Husband had a whisky cocktail and he loved it! Great atmosphere and super friendly staff. Definitely will be a regular date night spot for us!"
"We love Loveland Chophouse and go often!! If you are celebrating and want a special night out, it's the only place in Loveland that measures up. The service and atmosphere is impeccable!"
"I have never been a fan of mussels until I had them at the Chophouse in Loveland. Extremely good! You have converted me!! Everything I have had at the chophouse has been great!!"
"First I want to say that we my friend and I went there for an early Valentines dinner. Not only was it incredibly delicious the service was impeccable. We had Emily whom was not only personable but made our experience one of a kind! I enjoyed the delicious salmon along with my friend who had the 8 oz steak with scallops À la cart. The sauce with salmon was delightful and couldn't have paired any better. I tried scallops for the first time in 16 years and was pleasantly surprised by the perfectly cooked, light, but fully of flavor paired with a sauce that I couldn't get enough of. My friends steak was prepared exactly how he asked, moist, juicy, and cut like butter. We added on a bottle of the Duck Cab with our meal, that couldn't have elevated our meal any better. We will be back! As we love Emily and will be asking for her again but the food was exquisite and doesn't compare to anything here locally! Thank you for having us, we highly recommend The Chophouse and know you won't be only getting an experience you will be getting an opportunity of a lifetime."
"The Scallops with the creamy bacon sauce was rich and yummy on a cool night. It was an enjoyable evening and the service was great."